---
Barlinek Oak Caramel Grande 1 strip plank, lackquered
Size: 14x180x2200 mm
Oak Caramel Grande by Barlinek, one strip planks
Lackquered, brushed, click system
Oak Caramel Grande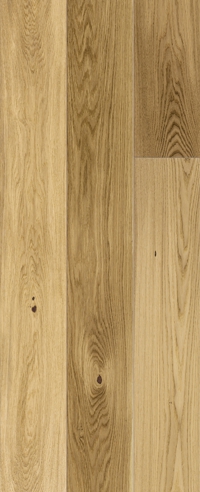 Oak Caramel Grande are manufactured in wide format 180 mm in pure sorting with fewer number of knots. Boards are adorned with a brushed finish which intensifies the impression of traditional oak flooring. The matt lacquer is used to protect the surface. Boards are 4 side beveled. This type of flooring can be installed in a floating way or full-area gluing.
Approximate cost of installation
Float-click: 250, - CZK / m2
Glue-down installation: about 450, - CZK / m2
Specifications
Format: 14x180x2200 mm
Construction: 3-layer floor
Top veneer: 2.5 mm
Finishing: matt lacquer Becker
Stage: Yes
Connection: Clik
Surface structure: Brushed
Suitable for warm water underfloor heating: Yes
Package Contents: 2.77 m2
Catalog
Product hardwood floors in pdf format can be

downloaded here.
If interested, we will send you a printed catalog by mail.
Technical information about wooden floors
Technical information about wooden floors, wood characteristics, requirements for installation on underfloor heating and additional information, please visit www.pechar.cz/drevene-podlahy
Demand
Rádi Vám poradíme s volbou
vhodného příslušenství.
Dřeviny Vám před koupí necháme
ukázat v našem skladu.
Pokud potřebujete urychleně
informace volejte na +420 220 879 443
---