---
Western Red Cedar - knotty grade siding
Size: 17x136x1800-6100 mm
Western Red Cedar siding in knotty - Elite grade

Western Red Cedar - knotty grade siding 17x136mm
Western Red Cedar is a legend among tree species and thanks to its unique features, it is best choice for your wooden construction and house cladding. No torsion, high stability, long service life, gorgeous scent, weather resistance and resistance against insects, this is only a fraction of its unique features that have been known for generations. Western Red Cedar in Elite grading is characterized by an unlimited number of knots.

Size and specificaton
Name: Western Red Cedar, Thuja Plicata
Size: 17x136x1800-5700 mm
Origin: Canada
Grade: Elite with unlimited number of knots.
Length are mixed in random lengths from 1800 mm to 5700 mm. Pack of 6 pieces of one length in the package. The price is presented for total width 136 mm including tongue. After joining tongue and groove is visible width 126 mm.

Specific weight
One of the lightest commercially used softwood types, Western Red Cedar dried in a kiln, has a specific weight of about 400 kg / m3. The low density of Western Red Cedar increases its thermal insulating properties and is why this wood is easy to transport and why it is easy to handle.
Dimensional stability
Like any other wood, the red western cedar is hygroscopic and absorbs or releases moisture to stay in balance with the surrounding environment. However, it has a very low shrinkage factor and, compared to other coniferous lumber, it is very resistant to bruising, twisting and cracking.
Thermal conductivity
Wood is an excellent thermal insulator. This is a very important feature because good heat-insulating materials help to keep cool in the interior of the building in the summer and reduce the cost of heating in the winter. The thermal conductivity of the wood is directly dependent on its density (specific weight). Low density wood has the best thermal insulation properties because such wood contains a large number of lumps. If the wood is dry, these cavities are filled with air, which is one of the best known thermal insulators. Red Cedar Red is one of the best thermal insulators, thanks to its low density and large proportion of air cavities, compared to other commonly available types of softwood and incomparably better than bricks, concrete and steel. It has a thermal conductivity coefficient (k value) at 12% humidity of 0.74 BTU inch / ft2h degrees F (0.106 Wm-1K-1).
Sound insulation properties
An important feature of wood in terms of sound insulation is the ability to absorb vibrations. Wood has a cellular structure made up of tiny interconnected pores which, through friction and viscoelastic resistance, convert noise to thermal energy. Due to the large internal friction generated in the cellular porous structure, wood has a much greater ability to dampen the sound than most building materials. Floor, ceiling and wall constructions can provide cost-effective sound insulation when properly used. Red Western Cedar is particularly suited for this purpose and can be used to reduce noise or to quiet the room.
Lifetime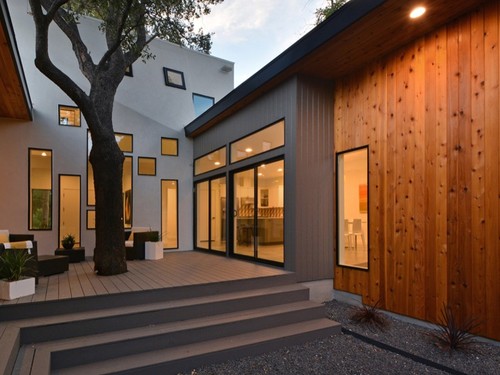 In the past, natives on the Pacific coast valued red western cedar for its durability and stable quality, and used wood and bark for most building structures. The proof of durability and therefore long life is a range of red cedar red products, which are still in very good condition. If the red west cedar is well treated and maintained, its life spans in decades. If it is to be exposed to conditions that may cause it to fall aside, such as when the wood is in contact with the soil, the red western cedar must be treated with a suitable wood coating.
Avoid contact with corrosive metals
Contact of wood with corrosive metals can cause black stains on the wood. Hot-dipped galvanized, aluminum and stainless steel nails are all corrosion-resistant and can be used to nail Western Red Cedar. Other types of nails are not recommended. They can rust and disintegrate and react adversely with the natural preservative oils present in cedar resulting in stains and streaks. Copper nails also react with cedar and should not be used. Stainless steel nails are the best choice, especially if the siding is to be finished with transparent stain. Use No.304 stainless for general siding applications and No.316 for seacoast exposures.
Wood color tolerance
Each piece of wood is a unique original originating from growing trunks, and it is never possible to achieve uniformity in the color of wood or in the structure. Red Western Cedar occurs in many color shades, distinct color variations are characteristic of this species and are permitted without limitation in the best Clear classification. If western red cedar is exposed to UV rays, it becomes grayed out after time, as is the case with all tree species.
Dimensional Stability
Western Red Cedar has twice the stability of most commonly available softwoods. The stability is a result of its low density and shrinkage factors. It lies flat, stays straight, and holds fastenings tightly.
Workability
Western Red Cedar produces long, lightweight lengths of timber with a fine, straight grain and uniform texture that make it easy to cut, saw and nail with common tools. These features also contribute to its ability to be planed to a smooth surface or machined to any pattern. The lack of pitch and resin allows Western Red Cedar to hold glue bonds from a wide range of adhesives and provide a firm base for many types of paints and stains.
Natural Preservative
Western Red Cedar is one of the world's most durable woods. Natural resistance to moisture, decay and insect damage has long made Western Red Cedar the premier choice for either interior or exterior home use. Cedar fibers in the heartwood contain natural preservatives that are toxic to decay-causing fungi. The two principal extractives that are responsible for the decay resistance are Thujaplicans and water-soluble phenolics. The tree's ability to produce these extractives increases with age, making the outer regions of heartwood the most durable.
Flame Spread and Smoke Development Ratings
Western Red Cedar has flame spread and smoke development classifications that are superior to the minimums set by most building codes, which permit the use of cedar heartwood without preservative treatments.
All-Weather
Western Red Cedar is one of the few wood species that are naturally at home in the outdoors. Properly finished, Western Red Cedar will last for decades, even in harsh environments. Its natural resistance to moisture, decay and insect damage make it the ideal choice for a surface that is exposed to sun, rain, heat and cold all year round.
Demand
Rádi Vám poradíme s volbou
vhodného příslušenství.
Dřeviny Vám před koupí necháme
ukázat v našem skladu.
Pokud potřebujete urychleně
informace volejte na +420 220 879 443
---