---
Step Drill bit for decking
Professional adjustable counter sink drill bit Novlek Step Drill for decking - adjustable countersink with drill and stop head


Novlek Step Drill for decking - adjustable drill bit with countersink and stop head
Step Drill for decking is a professional countersink with a stop collar designed for pre-drilling holes for screws and counter sink of screw heads in one woring process. Leght adjustable drill mechanism allows to pre-drill boards and also the base prism. The adjustable system allows you to set the required length of the drill and also the setting of the countersink size for screw heads from Ø 6-10 mm. Step Drill for terraces is made of high quality steel 100Cr6 (HSS). The package comes with 2 pieces of drill Ø 4 mm and an Allen key for adjusting the tool.
Two tools in one - a drill bit and a countersink saves 50% of working time
Drill and countersink in one tool. Drilling holes for screws and screw heads in one work cycle. Precise pre-drilling of holes and countersinks for screw heads with the possibility of setting both the drilling depth and the size of the countersink according to the selected size of the screw head. Pre-drilling has never been so quick and easy..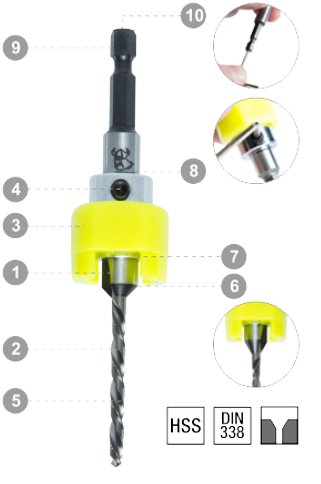 1. HSS steel countersink with adjustable Ø 6-10 mm in angle of 90°.
2. Drill Ø 4 mm with adjustable drilling depth setting.
3. Rotary stop head
4. Screw for tightening and setting the required drill depth
5. The twist drill guarantees perfect guidance and removal of sawdust
6. The trimming cutter cuts the wood fibers and guarantees a perfectly smooth countersink cut at an angle of 90 °.
7. Hole in the stop rotary head for sawdust removal
8. Gauge for adjusting the size of the countersunk for screw heads Ø 6-10 mm
9. Hexagonal quick-release attachment for the drill
10. Hole for removing and inserting the drill
Features
The NÖVLEK® step drill bit for deck is designed to pre-drill boards and joists while routing the housing for the screw head.
Quick and easy, with a time saving of more than 50%.
Very high quality design and manufacture.
Clean and split-free result for all types of wood.
100Cr6 (HSS) steel step drill bit.
Movable and adjustable depth stop.
Diameter and depth of routing adjustable to the dimensions of the screw head using setting markers.
Pre-drilling depth adjustable according to the length of the screw.
Improved shaving removal due to the design of the drill bit.
Available in 2 versions, with a routing angle of 60° or 90°.
Maintenance: fully removable and can be sharpened several times.
Demand
We will be happy to advise you on the choice suitable accessories.

We will show you our products before purchase in our warehouse. Wood is a natural material, each piece is a unique original. The supplied wood will be different from the displayed photos and samples.

Call us on +420 220 879 443

Payment options:
Cash or a card at the store
Cash on delivery (you pay when picking up the goods to the courier in the Czech area only )
By bank transfer (we will send the goods immediately after the amount has been credited to our account)
---