---
Oak Victoria Tabacco 1 strip plank, smoked UV oiled
Size: 14x189x1860 mm
Victoria DUB Tabacco one strip planks
Smoked, whitened pores, UV oiled, 2x beveled, click system
Oak Victoria Premium

, one strip planks, smoked, bleached, UV oiled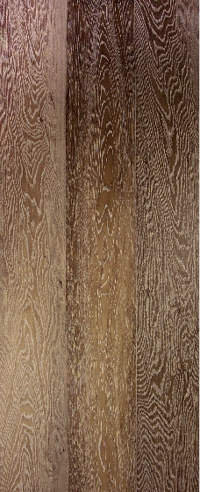 Victoria wooden oak floor in wide-strip with smoky finish and bleached pores. The floor is made of pure competition screening with very few knots. This type of flooring can be installed in a floating way or full-area gluing. The floor surface is protected by a UV oil and decorated with brushing.
Approximate

cost

of installation
Float-click: 10, - Eur / m2
Glue-down installation: about 18, - Eur / m2
Specifications
Format: 14x189x1860 mm
Construction: 3-layer floor
The top veneer: 3 mm
Finish: smoke surface, whitened pores, UV oil
Beveling: 2x
Connection: Click system
Surface structure: brushing
Suitable for warm water underfloor heating: Yes
Package Contents: 2.81 m2
Brochure
Product hardwood floors in pdf format can be downloaded here.
If interested, we will send you a printed catalog by post.
Demand
Rádi Vám poradíme s volbou
vhodného příslušenství.
Dřeviny Vám před koupí necháme
ukázat v našem skladu.
Pokud potřebujete urychleně
informace volejte na +420 220 879 443
---