Saicos Wood Stain
Product code:

saicos-lazura-ven-0,125
Transparent Wood Stain on natural vegetable oil basis for all exterior wood incl. preventive protection* against rot, blue stain and mildew.
Detailed Description

Saicos Wood Stain
Transparent Wood Stain on natural vegetable oil basis for all exterior wood incl. preventive protection* against rot, blue stain and mildew. Underlines and maintains the natural beauty of the wood. Weather and UV resistant, water repellent, very durable, microporous, moisture regulating, reduces swelling and shrinking.
If you want to preserve the wood grain and branches, but don't want to go without a dash of paint, use high-quality SAICOS Wood Stain. It maintains the structure of the surface and gives it a transparent or tinted coating, thereby renewing the look of your wood - just like on the first day.
Color cards
Below you will find an approximate color range of color shades.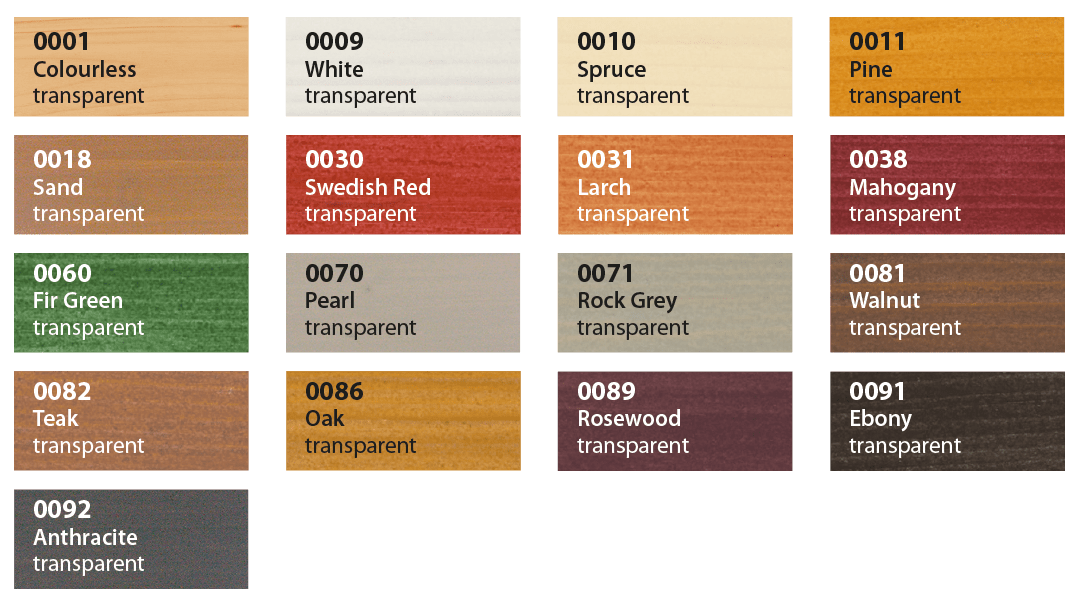 Benefits
Suitable for framework, balcony cladding and other garden woods
For example, the Wood Stain protects outdoor furniture and treats various types of wood
Makes the wood weatherproof
Water and dirt-repellent
Protects and treats in a natural way
The Wood Stain protects and treats all external woods such as fences, screens, garden houses, garden furniture etc. It is a transparent coat that brings out wood in outdoor areas. The wood gets a natural, permanent touch of colour thanks to the UV-resistant pigments of the Wood Stain.
In addition, the Wood Stain has anti-blocking properties and can therefore also be used in outdoor areas where stress and wear are particularly high, such as window frames or doors. The natural oils of SAICOS Wood Stain penetrate deep into the wood and reliably protect the surface against weather and moisture. Mould and fungi don't stand a chance. The Wood Stain reduces wood swelling and shrinkage and makes it extremely durable and resistant.
Ideal for pressure-impregnated wood. Depending on the type of wood and production method, it is also suitable for thermowood (trial coating recommended). Old coatings and the like should be removed and all necessary preparatory steps such as sanding, cleaning, drying and priming should be carried out depending on the type of wood. Then spread the stain evenly. The final result of the colour can be seen in the dry state.
The perfect protection
Wood is a natural material that is exposed to wind and weather and sunshine outdoors. A stain is always useful if the woods are to be protected and treated at the same time. This means that your wooden surfaces are preserved for a long time and stay particularly beautiful. At the same time, improve the look of your wood - it will look almost new.
Treatment for outside
A Wood Stain for furniture outside flats or houses is essential if you want to enjoy your garden furniture and wood for a long time. Enriched with natural oils and a hint of colour, our Wood Stain ensures an effective coating. SAICOS Wood Stain bonds permanently to the wood - no sanding when renovating, not even after many years.
Natural colour
The colour result depends on a range of factors. Aside from the wood type and quality, for example, the groundwood pulp is also important. For these reasons, we recommend a trial coat on the original wood so that you can be sure that you are getting the right shade. Colour pigments with high UV resistance (except colour-free shade) ensure the natural beauty of the wood.
Specification points
Video application
Watch short video with application of the product.
Technical data sheet
Technical data sheet in PDF to download here.
Demand
We will be happy to advise you on the choice suitable accessories.
We will show you our products before purchase in our warehouse. Wood is a natural material, each piece is a unique original. The supplied wood will be different from the displayed photos and samples.
Call us on +420 220 879 443
Payment options:
Cash or a card at the store
Cash on delivery (you pay when picking up the goods to the courier in the Czech area only )
By bank transfer (we will send the goods immediately after the amount has been credited to our account)