Novlek spacers 5 mm
Product code:

novlek-spacers-zluty
Detailed Description

Spacers
Novlek spacers are a professional accesory for installing wood or composite decking, enable to keep uniform gaps betwen boards. We offer spacers in three sizes 3 mm, 5 mm and 7 mm. Novlek spacers are made from a very durable plastic in design to prevent to fall down between planks and equiped with handle for easy removal. Novlek spacers are user-friendly and especially easy to remove, even if they are tightened between two boards. The large opening on the wedge's grip allows to easily insert a tool (pliers, wood chisel, etc.) or a finger for its fitting or removal.
Dimensions and packing
Blue: 3mm
Red: 5mm
Yellow: 7 mm
Packing: 25 pcs in box
Assembling a wooden terrace
During the installation of the wooden terrace, depending on the wood, it is necessary to maintain a gap of 3-7 mm between the individual boards due to the possibility of swelling or drying of the boards, caused by changes in climatic conditions. Orientation sizes of joints between individual boards depending on the moisture content of the wood.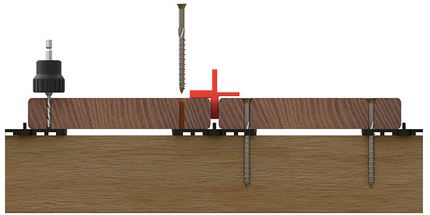 Wood moisture 12-17% - joint size 7 mm
Wood moisture 18-22 - joint size 5 mm
Wood moisture> 23% - joint size 3 mm

To prevent the capture of water and moisture between the prisms and terrace boards and the associated potential risk of rot, we recommend the use of ventilation pads from our offer.
Use a board staightener or board clamp to install the side curved boards.
Demand
We will be happy to advise you on the choice suitable accessories.
We will show you our products before purchase in our warehouse. Wood is a natural material, each piece is a unique original. The supplied wood will be different from the displayed photos and samples.
Call us on +420 220 879 443
Payment options:
Cash or a card at the store
Cash on delivery (you pay when picking up the goods to the courier in the Czech area only )
By bank transfer (we will send the goods immediately after the amount has been credited to our account)