Detailed Description
Siberian larch, profile 45x58 mm
Specie: Siberian larch
Botanical name: Larix sibirica
Origin: Russia
Size: 45x58x4000/5100 mm
Density: approx 590 kg/m3
Durability class EN350: 3-4
Drying: KD
Grading: AB, knotty
Packing: 4 pcs
Profile: prism with eased edges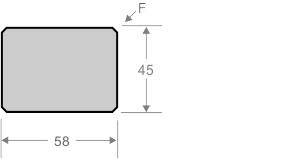 Specification points
About Siberian larch
Siberian larch, botanically called Larix sibirica, is a slow-growing conifer and is one of the most commonly used tree species for outdoor projects. It is a popular wood valued for its beautiful appearance, natural resistance, hardness and durability. Siberian larch naturally occurs from the northern regions of Europe, the Finnish border further east to central Siberia, where its name also comes to the southern border of Russia with Mongolia. It is a common species of wood, with larch accounting for 37% of Russia's total forests. Siberian larch is currently being replanted faster than harvested, making it a very sustainable choice. Siberian larch grows from the lowlands to an altitude of about 3600m in the Altai Mountains. From the 19th century, it also began to be artificially planted also in Canada and the USA.
This unique tree is able to withstand very adverse and cold temperatures and in adulthood it reaches a height of between 20 and 50 m and the diameter of its trunk is about 1 m. Summer in the taiga is short, but relatively warm. The winter is long and very cold. The extreme natural conditions that Siberian larch must face during its growth are the reason for its slow growth, dense annual rings, high density and many unique physical and mechanical properties, which will subsequently find use in the construction industry.
Siberian larch and its extracts have long been used for medicinal purposes in ancient times as well as today. Larch extracts and enzymes are still used to improve the body's defenses and strengthen the body. Resins are used to treat skin diseases and bud extracts help with inflammation of the upper respiratory tract. In ancient times, Siberian larch was used to make containers in which milk, butter and other foods did not spoil for a long time due to the antiseptic substances contained in the wood. In the past, larch was also used for fumigation during epidemics due to its positive energy. In magic, burning wood with wood or burning needles was used to avert adverse effects. Due to its positive energy, larch has long gained popularity in construction and the production of furniture and other wood products.
Properties
Siberian larch is one of the heaviest softwoods showing medium stability. For Siberian larch are characteristic apperiance of longitudinal cracks and cracks at the ends, depending on the outdoor climatic conditions, it is usual sign of this specie. Avoid contact of wood with metal or metal dust, which creates blue-black stains on the wood. Use only stainless steel fasteners for contact with and securing the wood. Siberian larch wood is less stable with significantly higher curvature compared to western red cedar, Canadian Douglas fir or thermo-modified ThermoWood. Due to this, it is recommended to carry out the assembly by screwing with screws for higher mounting strength. Nail mounting is not suitable. If the wood is left untreated or if the surface is not given sufficient care, weathering will change the color over time, most often to silver-gray. conditions, due to changing humidity and sun exposure conditions, there will be no uniform weathering and is likely to produce a dark, mottled, gray appearance.
Demand
We will be happy to advise you on the choice suitable accessories.
We will show you our products before purchase in our warehouse. Wood is a natural material, each piece is a unique original. The supplied wood will be different from the displayed photos and samples.
Call us on +420 220 879 443
Payment options:
Cash or a card at the store
Cash on delivery (you pay when picking up the goods to the courier in the Czech area only )
By bank transfer (we will send the goods immediately after the amount has been credited to our account)