---
Angelim amargoso decking
Angelim amargoso hardwood decking
Size: 21x145x1800-5700 mm
Profile: both side smooth
Angelim amargoso decking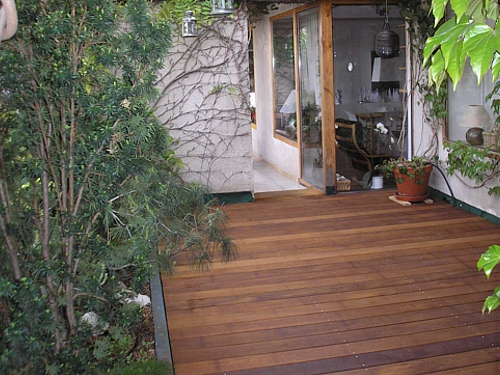 Name: Angelim amargoso
Botanical name: Vatairea spp.
Origin: South America
Size: 21x145x2100-5700 mm
Density: 750-800 kg na 1m3
Natural durablity index EN350: 3 class
Wood drying: KD
Usage: outdoor decking
Packing: loose on packets
Profile: both side smooth S4S, E4E
Certificate of legal origin: EUTR


About Angelim amargoso
Angelim amargoso is South American hardwood with natural resistance. The color of this wood is initially yellow, golden-red with different shades of striations within a few days or weeks exposed on the sun turning the color into reddish dark.
Colour

and weathering
Yellow color freshly after cutting, darkens over time. Yellow-orange color with various shades of brown with a greenish tinge. Texture from radial to irregular structure. Due to UV radiation and climate, the wood weatheres and changes color to a gray shade. Due to the effect of moisture or dirt, the wood may blacken and change color to a dark shade. The weathering time of wood depends on the method of treatment, the location of the climate, the exposure of individual pieces to rain and other weather conditions.
Features
Medium degree of shrinkage, medium degree of curvature, good stability, surface chipping, it is recommended to regrind the surface after installation to reach smooth surface. It is reccomended to pre-drill holes for screws to prevent splitting and cracking. Wood that is exposed to outdoor climatic influences changes in volume, dries out or grows according to climate change. There may be slight differences in width for individual boards, due to the different expansion of the wood during moisture balance between radial and tangential growth of the wood. In wood that is exposed to outdoor climatic influences, cracks, deflection of so-called troughs, torsion, cracks and fissures can occur, especially at the ends of the boards due to drying, changing depending on relative humidity or changes in climatic conditions, small holes for wood-destroying insects. If you want to restore the original color of the wood, use a professional Saicos dehumidifier (new window) according to the technical sheet. Then treat with a suitable protective oil paint.
Use the stainless steel screws or fasteners only. Avoid contact with corrosive metals objects which makes hardly removable blue-black stains on the wood.
N

atural oils contend
Most of tropical woods contains natural oils which may flush out from the wood during a certain period when wood is exposed to weather conditions as rain or high humidity in the form of a brown liquid. Avoid contact with walls, plaster, bricks and other surounding which can be stained. Secure rainwater pipe or sewer system in the event that the installation is made in balconies.
Wood storage
Before and during installation make sure that wood is not exposed to direct sunlight, rain, snow or other weather conditions. Keep wood covered under the foil or store it under the roof with relative humidity similar to outdoor conditions. Place the wood on stickers to allow air ventilation and keep wood out of moist and mold formation. Follow these storage instructions to prevent wood against twisting, bowing or other deformations which may apear during incorrect storage.
Care and

maintenance
Clean your deck regulary, keep it out of dirt, soil, sediments and pollen. This prevents the penetration of dirt macropores into the wood. The black dirt stains can occure under objects like umbrellas stands, flower pots, bowls, mats and other where water and hight moisture can stand without proper air ventilation. Therefore carry these objects time to time and ensure natural drying and ventilation. This helps to avoid creating of dark spots on the wood.
Browse our catalogs
We offer a wide range of products as wooden and composite decking, facade cladding, lumber, interior flooring, wall panelling including accessories for installations. Get inspiration and look at our catalogs, where you can find valuable advices, installation guide and maintenance reccomendation. Catalogues in PDF version can be downloaded here or in the catalogs section in the upper menu bar.
Download:
Demand
We will be happy to advise you on the choice suitable accessories.

We will show you our products before purchase in our warehouse. Wood is a natural material, each piece is a unique original. The supplied wood will be different from the displayed photos and samples.

Call us on +420 220 879 443

Payment options:
Cash or a card at the store
Cash on delivery (you pay when picking up the goods to the courier in the Czech area only )
By bank transfer (we will send the goods immediately after the amount has been credited to our account)
---