---
Western Red Cedar - knotty grade decking
Western Red Cedar - knotty decking
Size: 38x140 and 38x185 mm
Profile: both side smooth
Western

R

ed Cedar
Western Red Cedar one of the most beautiful species in the world. Western red cedar offers much more than just good look. This unique specie we import from British Columbia is one of the most stable and most durable species. Wood remains straight without twistability, does not contain dyesand very well accept many kinds of protective coatings.
D

imensions and

profile
Name: Wester Red Cedar
Botanical name: Thuja plicata
Origin: Canada
Size: 38x140 mm a 38x180 mm
Profile: Both side smooth with R5 edges
Drying: KD
Grade: STK sellect knotty
Density: 400 kg / 1m3



Tips

for

installation

of Western

R

ed Cedar

decking
The best option for installation of terrace boards is to use stainless steel screws. For most of applications, stainless steel grade 304 sufficient and provides adequate corrosion protection. For terraces salt water resistant 316 degree use screws for installation must be long enough to penetrate at least 3.5 cm into the underlying joist. Two screws must be be use on each side of the planks terraced on each connection with every boards with supporting beams. The spacing of base prisms is 40 cm is recommended for boards in size 26x140 mm. This spacing is used for normal trafic and load of about 100 kg between grids. Imposition of base grow above the soil, for example, to target designated for this purpose, it increases their durability. Use cedar base prisms, achieve consistent properties and behavior of the underlying wood beams and wooden boards, and the best result.
Finishes
Although cedar is naturally resistant, surface treatment is recommended for increased protection of wood and prolong its life. Cedar wood very well tolerated a wide range of stains and other coatings, however, any such product, should be recommended specialized supplier. When selecting a suitable paint, make sure it meets the following.

Water repellent - hydrophobic
Resistant to mildew
UV-resistant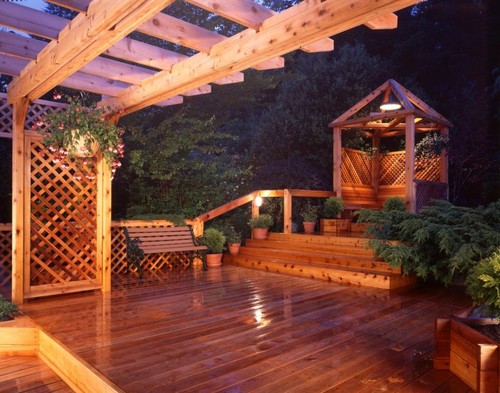 Penetration oil-based paints, especially those containing pigments, are recommended for cedar. Pigments provide increased resistance to UV radiation. Coatings should contain components capable of withstanding the abrasive wear, i.e. threadbare coat. Using heavy-layered paint or other coatings is not recommended for cedar patio decking. These coatings can create cracks or flake off when they are applied, and it is very difficult to remove them.
Tips

for installation and maintenance
The gaps between individual boards provide adequate drainage and also allows natural movement of the wood due to climatic changes. Wood, which can dry out after soaking lasts longer than that, which remains wet. Keep terrace boards without fallen leaves, pine needles and other debris that can hold water and moisture, thus allow adequate drying wood. Between individual boards to create during installation gap of about 5 mm.

Moisture and dirt can form in places butt ends of boards connected to the underlying prisms. Create a trailing gap in width of about 3 mm between the ends of the boards connected in length. Places podkládejte double grate with a space separated by about 9 cm for the possibility of runoff water and drying options. From time to time, move the pots, benches and other accessories of your patio that you allow sufficient drying of wood under these points.
care

Terrace Regularly clean the deposited dirt, soil, sediments and pollen. This prevents the penetration of dirt macropores into the wood. Under objects such as umbrellas stands, flower pots, bowls, mats, under which settles water and moisture, there is no possibility of a quick and natural drying wood. Under these objects can cause stains from long-term moisture and dirt. Therefore, these subjects standing on the terrace from time to time carry or ensure that underneath there was a natural drying and ventilation. This helps to avoid dark spots on the wood.
Download:
Demand
We will be happy to advise you on the choice suitable accessories.

We will show you our products before purchase in our warehouse. Wood is a natural material, each piece is a unique original. The supplied wood will be different from the displayed photos and samples.

Call us on +420 220 879 443

Payment options:
Cash or a card at the store
Cash on delivery (you pay when picking up the goods to the courier in the Czech area only )
By bank transfer (we will send the goods immediately after the amount has been credited to our account)
---