Aluminium profiles Relo C 27x56 mm
Product code:

alu-profil-relo-27x56
Detailed Description
Relo C aluminium profiles
Material: Aluminium AN AW 6060 T66
Producer: Austria
Size: 27x56x4000 mm
Profile thickess: 2 mm
Weight: 0,65 kg / 1 m
Usage: underconstruction decking profiles
Packing: loose on packets
Profile: Relo C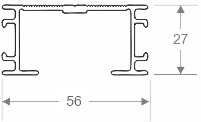 Specification points
Description
The substructure joist is the most significant component of the terrace. Therefore sturdiness and durability must be taken into account for this part of the terrace: The profile of the RELO substructure joists results in a durable, long lasting, stable and extreme load-bearing capacity substructure.
High structural stability
RELO C is a compact design suitable for low construction heights. Despite its low construction height, the overall design provides the decking with high structural stability.
Accessories
RELO L and RELO E accessory systems enable simple and quick longitudinal and transverse connection of aluminum profiles of the underlying structure.
Load bearing capacity and distance spacing
To ensure sufficient load-bearing capacity of aluminum profiles installed on high adjustable pedestals or ventilation pads, observe their spacing according to the table below. An example of working with a table. For the installation of Fiberon composite terraces with a thickness of 24 mm, it is recommended to place aluminum profiles RELO C 27x58 mm at a distance of 40 cm from each other. When aluminum profiles are placed on pads or adjustable pedestals 40 cm apart, the load capacity is 9.75 kN/m2. Additional load bearing capacities depending on the aluminium profiles distance spacing and underconstuction pedestals spacing shown in the table below.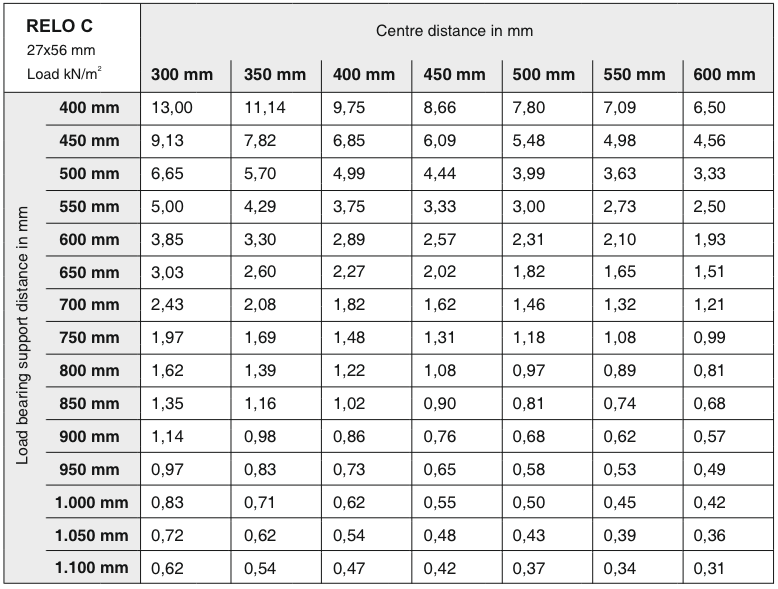 Demand
We will be happy to advise you on the choice suitable accessories.
We will show you our products before purchase in our warehouse. Wood is a natural material, each piece is a unique original. The supplied wood will be different from the displayed photos and samples.
Call us on +420 220 879 443
Payment options:
Cash or a card at the store
Cash on delivery (you pay when picking up the goods to the courier in the Czech area only )
By bank transfer (we will send the goods immediately after the amount has been credited to our account)