Cubica white 16x40 mm, wooden skirting Pedross
Product code:

Lista-Cubica-16x40-bila
Cubica white skirting 16x40 mm,
wooden skirtings from the Italian producer Pedross,
spruce core with decorative white surface foil
Detailed Description
Cubica white 16x40 mm, Pedross wooden skirting
High-quality wooden skirting from the Italian manufacturer Perdoss in the Cubica 16x40 mm profile. The core of the skirting is made of finger joint spruce wood, which guarantees high dimensional stability without deformation. The flexibility of spruce wood easily adapts to wall irregularities. The surface of the skirting is a white foil, in RAL 9003 shade. The Cubica skirting is equipped with a groove on the back, which enables the mounting with using of the original clip. Another possible option is to attach this skirting by screwing it to the studs in the wall. The skirting can be dismantled at any time and put back on again without damage. The milled groove on the back side of the skirting also allows the routing of cables up to a diameter of 7 mm.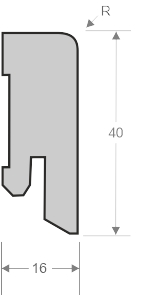 Specification points
Technical details
Profile: Cubica
Format: 16x40x2500 mm
Material: wood
Construction: solid wooden finger joint core with veneer
Core: spruce wood
Surface: white foil (RAL 9003)
Moisture content: < 10%
Recommended ambient humidity for use and storage: 55-70%
Purpose: interior use
Clip mountable: yes, Clipstar Pedross
Possibility of fixing with a screw: yes
Possibility of routing the cabling behind the rail: yes, up to Ø 7mm
Content in the package: 10 pcs=25 m
Demand
We will be happy to advise you on the choice suitable accessories.
We will show you our products before purchase in our warehouse. Wood is a natural material, each piece is a unique original. The supplied wood will be different from the displayed photos and samples.
Call us on +420 220 879 443
Payment options:
Cash or a card at the store
Cash on delivery (you pay when picking up the goods to the courier in the Czech area only )
By bank transfer (we will send the goods immediately after the amount has been credited to our account)