Oak solid parquet block flooring
Product code:

dub_vlysy_1
Detailed Description
Oak solid block flooring
Traditional solid oak block flooring are a time tested classic among wooden flooring. Solid block flooring belong to the most durable wooden floors ever. They are made from a one piece of wood with tongue and groove around on all four sides. This kind of flooring allows installation in a variety of different patterns.
Specification
Formats:
15x70x400/420/500 mm
22x70x300/400/420/500 mm
22x80x500/600 mm
Specie: oak
Botanical name: Quercus robur
Moisture content: 7-11%
Density: 650 ± 50 kg/m3
Construction: solid wood flooring
Joint: tongue and groove on all four sides
Surface: raw intended for surface grinding
Coating: unfinished, intended for additional oiling or painting
Beveling: no
Brushing: no
Suitability for hot water underfloor heating: 15 mm yes, 20 mm no
Specification points
Technical informations
Technical information and lots of valuable advice on hardwood floors are available here (Czech language version only).
A timeless classic
Oak solid block flooring are a timeless classic in the segment of wooden floors. They are characterized by high durability and beauty. They are made from a one piece of wood with tongue and groove on all sides. This type of flooring allows installation in a wide variety of different patterns as per your requirement. The installation can be made glue down or by hidden nailing of the parquet to the wooden subfloor. Solid blocks are delivered unfinished without surface treatment and after their installation, sanding and sealing of joints, the surface treatment is finally carried out by varnishing or oiling. As a surface treatment, we recommend natural hard wax oils or water-based varnishes from the German manufacturer Saicos from our offer.
Grading
Solid oak block flooring is produced in four quality grading Select, Naturell, Rustical and Indusrty differ according wood apperiance, purity and knoth sizes. Below you will find an estimated preview of the wood grading with a description of the main wood apperiances of individual grades. The classification is only indicative and may vary depending on the specification of the "free class" grading of each manufacturer.

1.) Select - the appearance of the surface is given by the natural growth of the wood. Color differences are allowed, radianl and tangencial grain of rings, knots up to 5 mm in diameter allowed.
2.) Naturell - Klasik - the color and structure of the wood have a more vivid appearance, healthy knots on the cheek surface up to 15 mm in diameter, black eyes up to 5 mm in diameter are allowed. Apperiance of natural and unnatural coloring is allowed with the sapwood.
3.) Rustical - the main character of this class is a more pronounced coloring, healthy and loose knots up to a diameter of 2.5 cm, sapwood and pith are allowed without restriction. There may be worm pin holes on the surface.
4.) Industry - this class allows all signs of wood, including loose and overgrown knots without limitation of their size and number, sapwood, overgrowth, steaming, significant color differences including unnatural coloring, cracks, pith runs, insect damage and other signs of wood.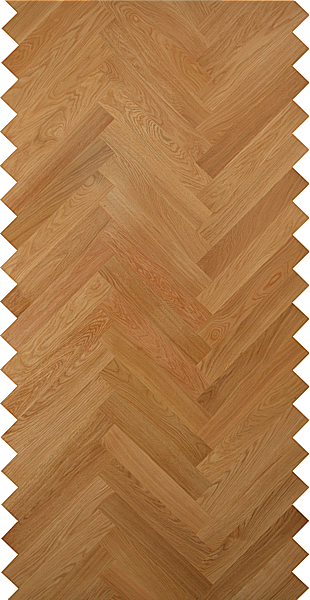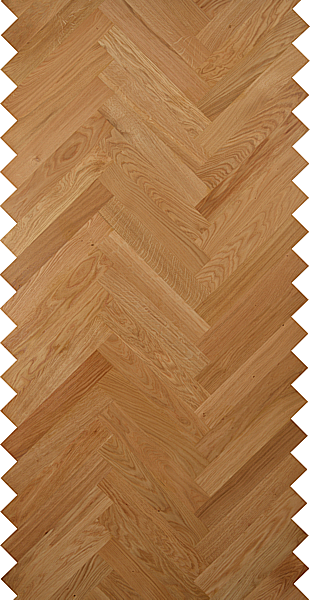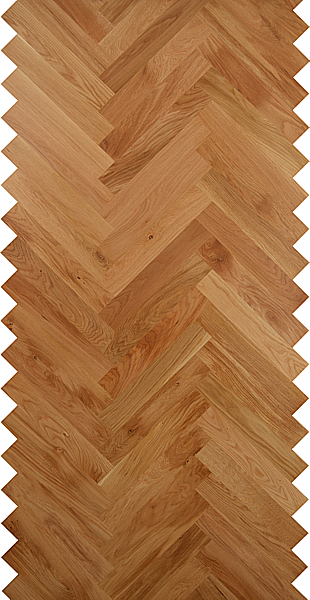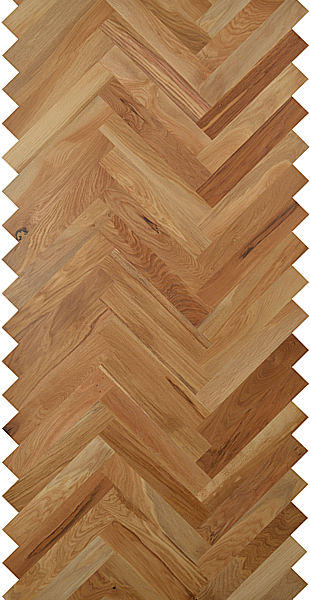 Packaging
the package usually contains 50% left and 50% right friezes, which allows installation in different patterns. The volume is taped, marked with size and quality class. For pallet deliveries, the goods are wrapped in foil. The weight of 1m² is approx. 15kg
Chosse coating by Saicos
Solid oak block flooring is produces unfinished, raw without surface treatment, which allows you to choose from a number of special surface treatments and effects. The surface treatment of this type of wood flooring is done after the installation is completed. You can choose from a wide range of colorless, tinted hard wax oils or varnishes with a wide range of optical finishes in supermatte, matte, semi-glossy or glossy designs. There are also various types of special effects and additives to choose from, for example with admixture of silver dust, extra increased slip resistance, increased curing speed, and other possible effects. You can find these products in the section of floor coatings from the German manufacturer Saicos.

Demand
We will be happy to advise you on the choice suitable accessories.
We will show you our products before purchase in our warehouse. Wood is a natural material, each piece is a unique original. The supplied wood will be different from the displayed photos and samples.
Call us on +420 220 879 443
Payment options:
Cash or a card at the store
Cash on delivery (you pay when picking up the goods to the courier in the Czech area only )
By bank transfer (we will send the goods immediately after the amount has been credited to our account)