---
Thermowood Rhombus profile 20x67 mm
Thermowood siding Rhombus profile made of Northen pine or spruce.
Size: 20x67x3000-4500 mm
Thermowood Rhombus profile 20x67 mm
Thermowood siding in Rhombus profile made of northen pine or spruce.
Size and profile
Specie: Pine
Botanical name: Pinus sylvestris
Treatment: original Thermowood, thermal modification type D for outdoor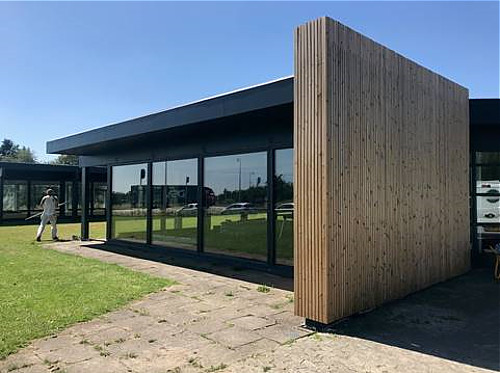 Size: 20x67x3000-4500 mm
Width and price is given for the total width of the profile including beveling of the edges
Profile: Rhombus ( C7 )
Cutting angle: approx 25°
Packing: 6 ks
Grading: knotty
Density: approx 400 kg/m3
Origin: Estonia / Finland
Production: Thermory, SLP
Thermowood direct import from Finland
Our company is a direct importer of Thermowood products from Finland. Production quality is ensured by conducting and monitoring the production process in accordance with the certification. The Finnish Forest Certification System Certifying Authority granted the right of use of the Certificate of Origin and the international association Thermowood Assocation was granted the right use the Thermowood trademark for our products. We prefer wood of Finnish pine and spruce. Thanks to this special heat treatment process, wood has many unique properties. Thermowood we import in wide range of products and profiles as facade cladding, planks, decking, profiles, special custom profiles, etc.
Technical data sheet
Technical data, grading rules and other information about thermowood can be found in following product data sheet PDF version here.
Browse our catalogs
We offer a wide range of products as wooden and composite decking, facade cladding, lumber, interior flooring, wall panelling including accessories for installations. Get inspiration and look at our catalogs, where you can find valuable advices, installation guide and maintenance reccomendation. Catalogues in PDF version can be downloaded here or in the catalogs section in the upper menu bar.
Demand
We will be happy to advise you on the choice suitable accessories.

We will show you our products before purchase in our warehouse. Wood is a natural material, each piece is a unique original. The supplied wood will be different from the displayed photos and samples.

Call us on +420 220 879 443

Payment options:
Cash or a card at the store
Cash on delivery (you pay when picking up the goods to the courier in the Czech area only )
By bank transfer (we will send the goods immediately after the amount has been credited to our account)
---