Step drill for wooden concealed-head plugs
Product code:

novlek-step-drill-plugs
Detailed Description

Novlek Step Drill
NÖVLEK step drill bit for the fitting of screw-concealing plugs is unique and innovative. It is the only step drill bit, with adjustable rotating depth stop that guarantees a total and perfect contact surface between plug, adhesive and blade. NÖVLEK step drill bit® also guarantees clean countersinking and drilling without chips in all types of wood, in particular in hard and exotic woods.
The fitting of screw-concealing plugs has never been so fast and easy.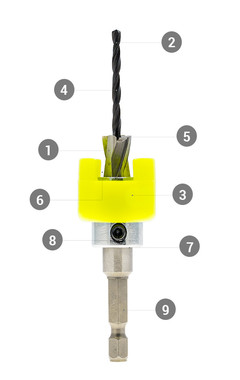 1. Flat bottom countersink Ø 10 mm
2. Pre-drill bit Ø 3 mm
3. Adjustable rotating depth stop
4. Spiral drills guarantee perfect guidance and chip removal
5. Tracing awls to cut the fibres before countersinking guarantee a perfect finish
6. Wood chip removal system
7. Adjustment mark for the stop for 7-mm countersinking depth
8. Drill stop adjustment screw
9. Hexagonal shank for the rapid switching of drill bits and screw bits
Specifications
Step drill bit in special steel 100Cr6 (HSS).
Drilling and countersinking of holes for the screw and plug take place in a single operation.
The tool is designed to countersink a flat bottom hole that guarantees maximum contact surface with the plug during gluing.
The adjustable rotating depth stop in high-quality plastic resin allows to adjust the countersinking depth as needed, without risk of marks during its contact with the support.
The new groove geometry and stop design improves chip removal to prevent jamming.
Easy replacement of pre-drill bit.
The countersink can be planed several times, depending on the quality of the planing.
Hexagonal shank for the rapid switching of drill bits and screw bits
Comes with hexagonal shank to adjust bit and stop.
Demand
We will be happy to advise you on the choice suitable accessories.
We will show you our products before purchase in our warehouse. Wood is a natural material, each piece is a unique original. The supplied wood will be different from the displayed photos and samples.
Call us on +420 220 879 443
Payment options:
Cash or a card at the store
Cash on delivery (you pay when picking up the goods to the courier in the Czech area only )
By bank transfer (we will send the goods immediately after the amount has been credited to our account)